I've been ranting a bit of the last few posts about my poor experience of customer service. Well it's time to change the tone. on Friday, I had the best experience I think I've ever had, and just goes to show what you can do as a company if you put some effort into it.
First the lead-up; In making a cup of tea, one of the teabags splits. I don't know if it was split before or after pouring water over it, but I noticed it when tea leaves started floating around the cup. I just thought I'd post a message to the Yorkshire Tea Facebook page and see what happened. I wasn't really expecting anything, much less a whole swathe of other fans commenting on my message with words of wisdom. What I really wasn't expecting though was a reply from Yorkshire Tea themselves within 45 minutes of me posting the message up, saying they were going to contact me directly through Facebook to try and resolve the issue.
Five minutes later, a message popped up in my inbox asking for an email address or phone number on which I could be contacted, so I replied and another ten minutes later I had an email from Taylor's of Harrogate (the company who own the Yorkshire Tea brand) saying they'd like to replace the box of tea, and if I might have the details of the batch (I didn't, but that didn't seem to really be an issue). A couple of replies later and I am about to receive a new box of tea.
This all within the hour of posting a message on their Facebook wall. Now, for any company providing any level of customer service, that which I received from these guys has been exceptional. It also proves that if you put the whole infrastructure in place instead of trying to scrimp and save here and there on bits of the chain, it can really work wonders for you. I've told everyone about this episode, and they're all as amazed as I am. But the word is spreading, and that makes Yorkshire Tea an ever stronger brand in the face of competition. I see that, because its the industry I work in, but I feel it's fair play – they make a great product, and on top of that have astounding customer service when things do (and they do sometimes, for everyone) go wrong. It is far too easy, as can be seen by my previous posts, to think social media can be controlled without making sure that the rest of the company is aware of the consequences in this digital age of getting it wrong. It doesn't work though so kudos has to be given to Taylor's.
Update 09/02/2011: I've just had a package and an envelope through the post. The envelope had this in it: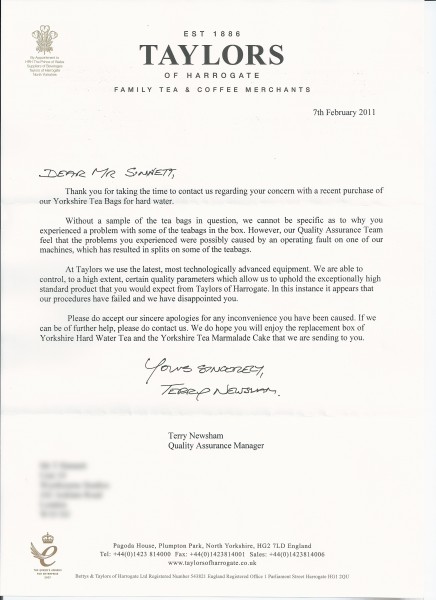 On top of that, a box with a hand written note from the person who I dealt with at Taylors of Harrogate by email: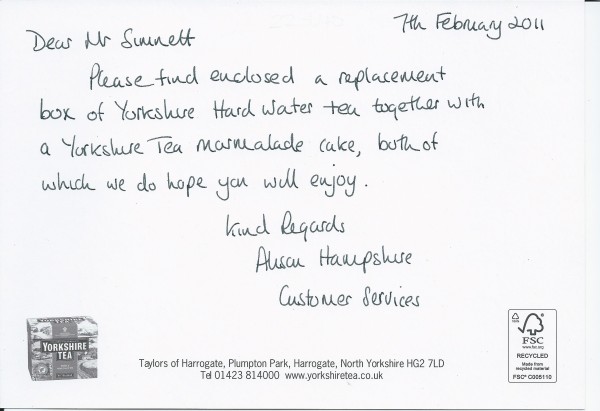 And of course a big box of Yorkshire Tea and the marmalade cake too: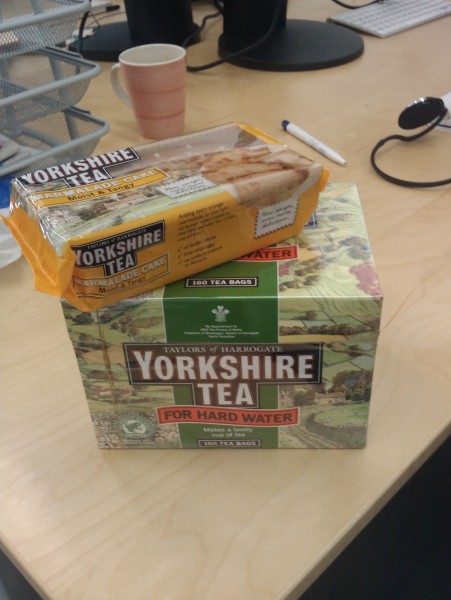 I can't explain how impressed I am with their customer service levels!